Hell On Stage Live - Original 12" Triple Vinyl LP (Germany , Test Pressing)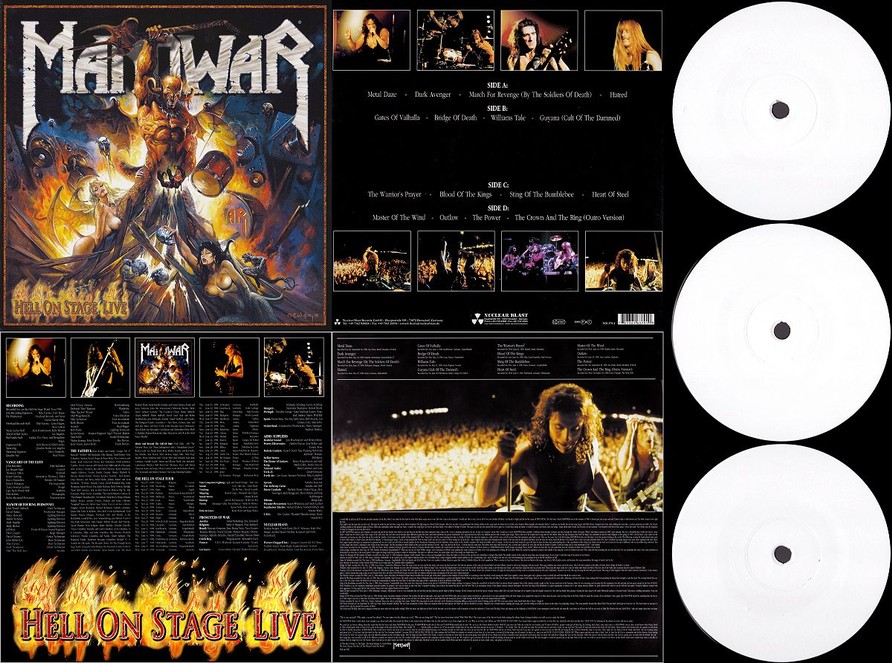 Details:
Original 12" Triple Vinyl LP, test pressing with a different back cover, inclusively a 7" booklet (not illustrated), white label,
Initially the "Hell On Stage" vinyl was planned as a double LP only. After they noticed that the capacity of two vinyls would not be enough for the whole song material, they released "Hell On Stage" on a triple vinyl edition in the end and the back cover for the final version was completely revamped. The test pressing also contains the double-side printed info sheet, which should have been part of the double vinyl edition. But they gave up on this additional enclosure in the final version.
Made:
Germany / 1999
Catalogue-No.:
NB 379 - 1
Label:
Nuclear Blast
Hell On Stage Live - Original 12" Triple Vinyl LP (Germany , Limited Edition)

7" Booklet & Poster

Details:
Original 12" Triple Vinyl LP including 7" booklet and giant poster (27,2 inch x 27,2 inch), neutral black inner sleeves,
Made:
Germany / 1999
Catalogue-No.:
NB 379 - 1
Label:
Nuclear Blast