Are you a Manowar fan or did you just lose your way ?
Anyway, you're here so feel free to read this shit !
First off, you'll ask yourself what this is all about. There's a simple answer to this. Years ago I was looking for a possibility to get an overview of my private MANOWAR collection and therefore created a boring excel list. Then a few friends suggested I should make a digital version available to other fans (or non-fans !). That's just what the world was waiting for. Thus the idea for this website was born.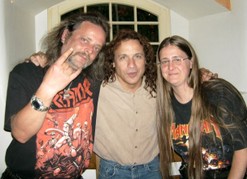 To view my collection, click on the section of the main menu which interests you and choose from the drop down menu. An overview will open, generally a picture gallery, where you can view all the items in my collection which fit into the category you chose. To read further infos on the items, click on the pictures. Please note that due to the many graphics the site may take some time to load. But visitors with a good internet connection should have no problems.
Attention !
All pictures on this website are protected by copyright and may be used or distributed (i.e. for ebay) only with my permission. Find details about this
HERE!
I own all the items listed here. I made the effort to take photos of them all for this site. Furthermore, as stated above, you get additional information about most of them, to the best of my knowledge. Concerning the number of items this means that some minor mistakes might be included. Should you find any, please let me know by dropping me a line (use this
online-form
).
Important:
All items (except for those I have a spare copy of) are unsaleable so don't bother asking. But should you own (and want to sell or trade) anything which I haven't got yet, send me your offer including the price by sending me an
e-mail
. You'll find the items I have a spare copy of at "Infothek" in the "Sale Or Trade" category. Generally trading is possible for everything on sale but only if you can offer something which I haven't got in my collection yet.
Who is this maniac anyway
?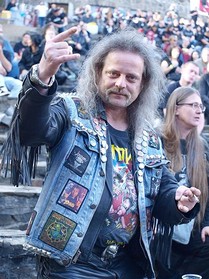 It all started in 1982. I was living in the former GDR when I heard about MANOWAR for the first time. In a small youth club a song called "Metal Daze" pounded out of the speakers and made me headbang on the dancefloor instantly. I was 19 years young and a total KISS fan but a song like "Metal Daze" was very different to "I Was Made For Loving You" and expressed my feelings way better. Exactly
THIS
was my music !
From then on I was hooked to anything that had the slightest connection to MANOWAR. Which unfortunately wasn't that easy in the GDR because bands from the west were regarded as "cultural waste" by the government and weren't wanted at all in our "clean society". But as a metal fan from the very beginning neither the police or any other federal clowns could keep me from getting the records I loved. I should want to mention that those records were traded in the GDR for prices of 150-200 marks – which was an enormous sum of money, given a monthly income of 425 marks !
Anyway… when MANOWAR released their album "Into Glory Ride" in 1983, this piece of music killed me completely. To this day this record is a part of my all-time top 3. Because of the mainly slow compositions which bulldozed everything into the ground I still name "Into Glory Ride" an "elephant record".
Until 1989 I had all the albums of the band filed on tape, the only original vinyl in my collection was the "elephant record". Then the iron curtain fell and what money I had was sacrificed to get the other LP's. Besides this, the first bootlegs were added to my collection and as by now technology had given us the albums on CD, these were added too.
So this passion for MANOWAR continued without stopping. When a new album is being published – I'll buy all the versions there are. When the band perform in Germany – I'll definitely be there. When Joey DeMaio farts – I'll get a deep breath. The result of this madness you can now admire (or ignore while shaking your head) on this site. Whatever, I'll stand up for this. No other band have ever managed to convince me more with their music. Of course this or that album can be debated (what band will write classic after classic ?) but there is only one vocalist like Eric Adams.
Some more information about my collection
By now this collection consists of more than 500 very different items. Currently the CD's are first by numbers, then come the shirts and the vinyl.
Unfortunately it's impossible to name the pecuniary value because I never kept tracks of the prices I paid.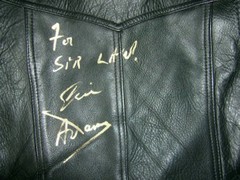 To put it simple: The material worth isn't important to me and the idealistic worth is priceless anyway. Every collector will know what I'm talking about. So far this collection has been gathered over the course of about 24 years. So I'm close to a quarter of a century with it and I still have as much fun with it as when I started.
I gathered the items from all over the world. The collection includes pieces from Malaysia, Israel, Indonesia, Russia, Thailand, Hong Kong, Liechtenstein and Brazil, to name just a few of the exotic regions. The rarest items are quickly named. Especially the test pressing are hard to get because of the very small quantities and it takes a large amount of time and money to add them. But when I succeed I'm twice as happy.
As proud as I am of this collection, nothing is better than the possibility to meet your favorites in person. It's a strange feeling, especially when you put as much heart blood into this as I do.
I'm looking forward to the next meeting.
So: ALL HAIL MANOWAR !
Oh … and if you like this stuff … click this bloody facebook like button !!! Thanks a lot.